---
---


Luna Hot Tub
The Luna hot tub Comes in two colour variants:
Midnight Opal with grey side panels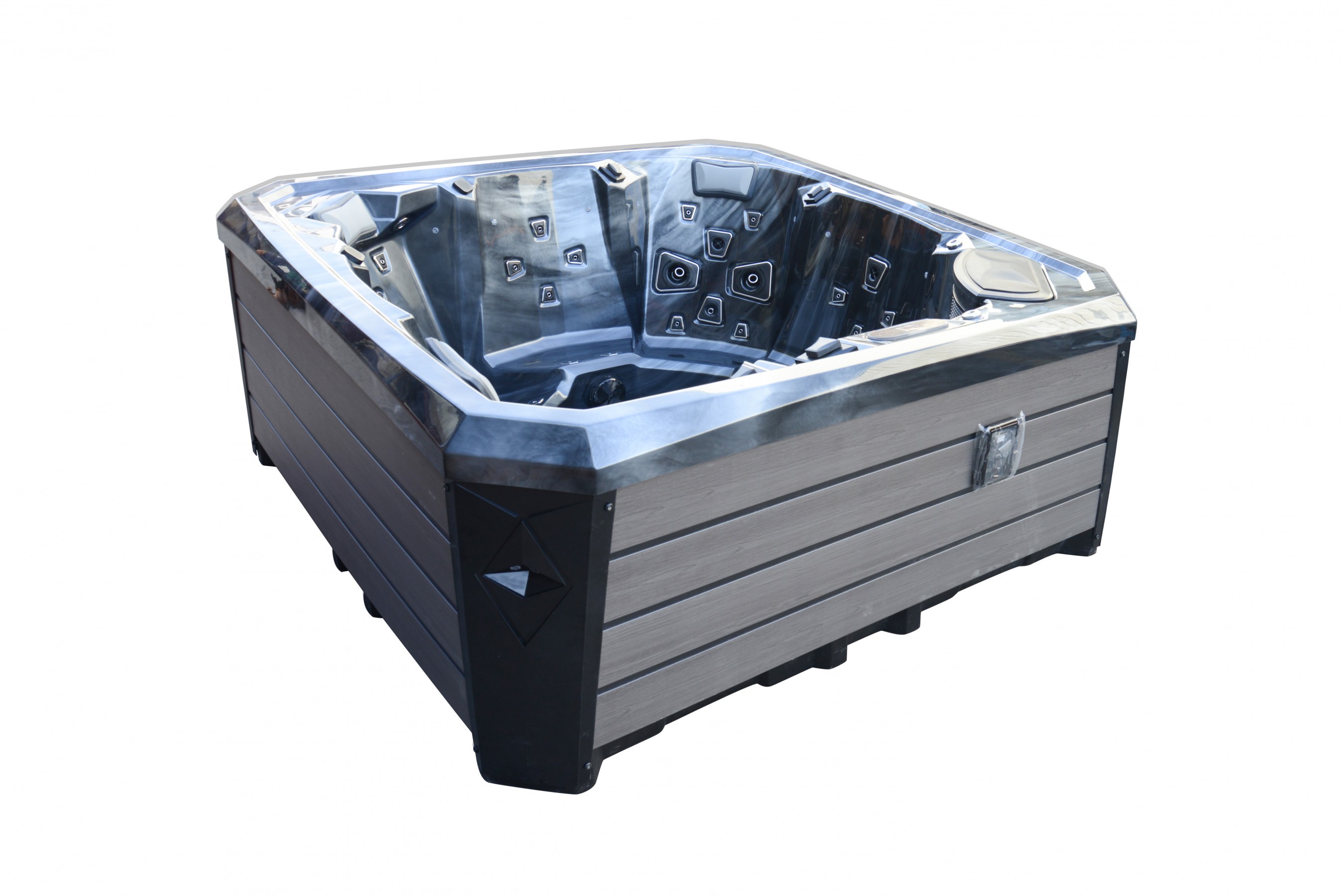 Sterling Silver with Grey Side panels: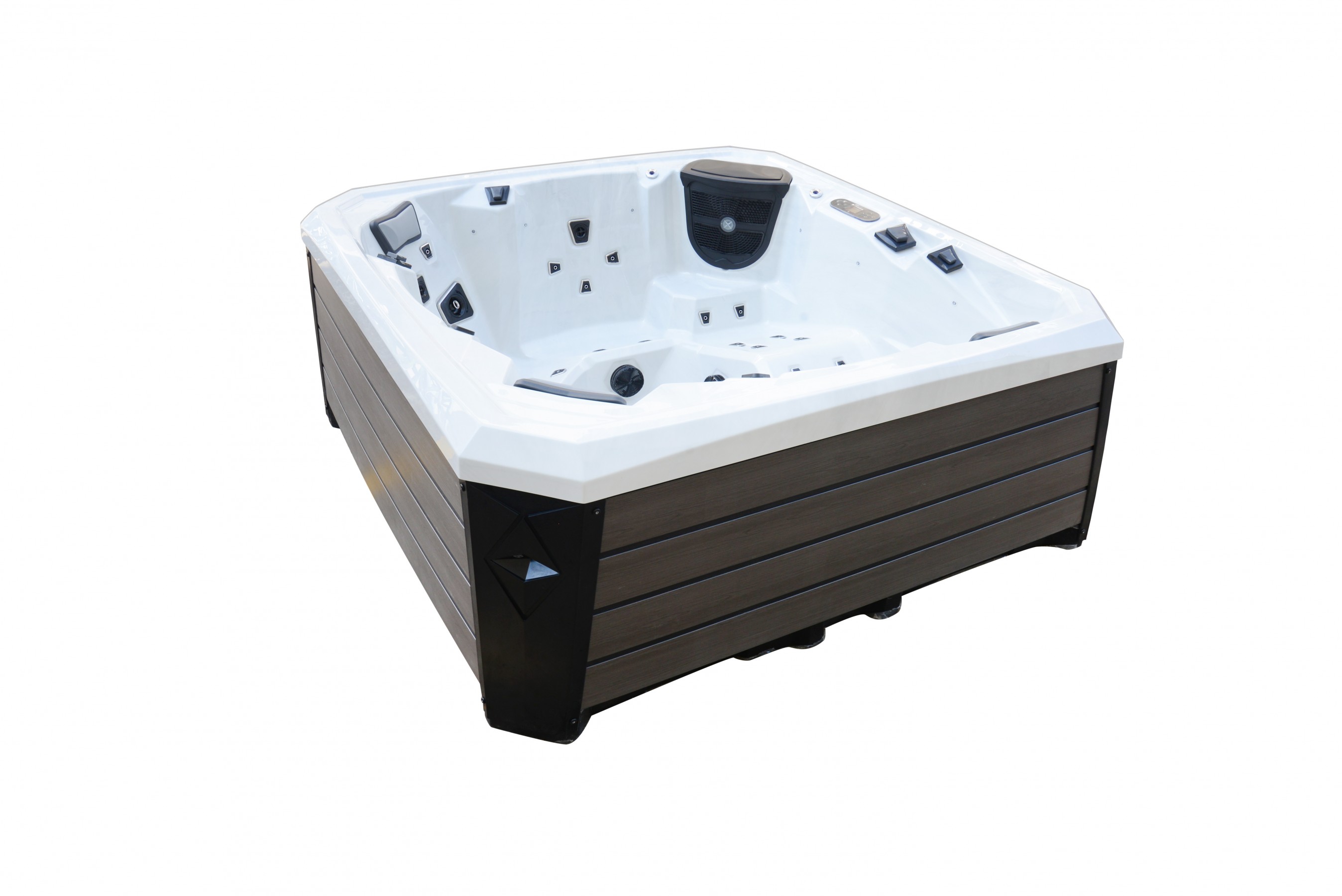 All Platinum Spas hot tubs come with a sealed base as standard, which is integral part of the hot tubs support structure. It is important to insulate your hot tubs. Without proper insulation a lot of valuable, expensive energy you use to heat the water will be lost through the hot tub body. Our hot tub uses insulating foam to keep warmth of hot tub.
Lighting
Scientists have claimed that the amount of lighting affects the regulation of emotions, such as happiness and sadness, through the nervous and endocrine systems. We have used LED lighting in our hot tubs to enhance the users pleasure whilst making a Platinum Spas hot tub, by selecting lighting that only enhances the persons mood.
All Platinum spas hot tubs come equipped with water level lighting, large LED in the foot well, corner skirt lights and the diverter lights. This gives the hot tub a very modern look but also improves the mental mood of the user.
Music
All Platinum hot tubs are equipped with MP3 music system's with a standard 3.5mm jack allowing virtually any MP3 device to be plugged in. You can sit back and relax in the spa whilst listening to your favourite songs through the two mounted speakers which come as standard. On the Premium range all our hot tubs come with Bluetooth connectivity! The mounted speakers also have colour changing LED lighting! Music is another way to increase the users enjoyment whilst using their hot tub! Downtempo music can cause the brain to sync up with the beat and create alpha brain waves. These waves are often present when we're awake, but relaxed. Listening to smooth jazz, especially combined with nature sounds like waterfalls or thunder, can be especially soothing.
Control System
Use controls you can trust!

Balboa instruments are the worlds largest manufacturer of electronic control systems for the spa and hot tub industry and the recognised leaders for innovation, ease of use and reliability.
Every Platinum spa model is equipped with Balboa's latest generation of solid state panels and controllers which have no moving parts, to ensure our spas are super reliable, dependable and easy to operate!
 Maintenance free
The side panels and steps that are used on Platinum spas are maintenance free whilst looking just like wood we use a wood composite instead of real wood on all our steps and side skirts. Wood rots and can deform over time! These particular side panels and steps do not rot or fade increasing the life and keeping the brand new look for many years!
If damages do occur  to the side panel of the hot tub it is very easy and a much cheaper option than wood for a replacement panel, which can take 10 minutes to change!
Specifications
Seats

 3

Loungers

 2

Total Jets

 50

Dimensions

 2.10m x 2.10m x .95m

Weight

 405

LED Lighting

 Multi coloured LED lighting foot well, waterline and corner downward lights

Circulation Pump

 1 x 0.5hp

Electrical Requirements

 32AMP

Heater

 3kw Balboa

Headrests

 3
There is the full range of Platinum spas available so please download the brochure below to check out which spa is perfect for your family.
Download PDF
---